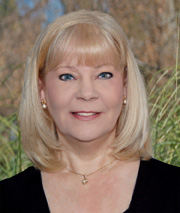 Janell is retired from a 20 year career with the Department of the Interior. Janell's employment took her to Missouri and New Mexico, before finally circling back to her native California where she served as Division Chief for Administrative Support at the Shasta Dam. Following Janell's retirement in June of 2014, she and her husband, Jim, moved to Lake Oswego, Oregon to be near their daughter. Janell is an alumna of Multnomah University and Master's College.
As an author and speaker Janell has presented sessions on growing through life's difficulties, grief and temperaments. She is currently a speaker for Stonecroft Ministries.
Salvation Experience:
From as early as I can remember we attended church every time the doors were open. When I was eight years old our church hosted a week of revival meetings. Since I had been in church and Sunday school my whole life, I had heard about God's love for me and how He had sent His Son, Jesus, to earth to die for our sins. I believed that to be true. But for some reason I had never realized that I was born a sinner and needed to confess my sins to God and ask Him to come into my life. That week it was as if my eyes had been opened and I so desperately wanted to belong to God's family. I knew what I needed to do. I needed to pray. So, each night after the service, after I got into bed, I would pray and ask God to forgive my sins and to come into my life. I just wasn't sure He really had.
Finally, after the final night of the revival, I called my mom into my room and said, "Mom, I have been praying and asking God to forgive me of my sins. I want to be a Christian. But, I'm not sure if it really happened. I just keep praying for it every night."
My mom took my hand as she said to me, "Jan, if you truly believe, go ahead and pray out loud right now. I know God is listening." I bowed my head and prayed, "Dear God. Thank you for sending your Son, Jesus, to die on the cross for me. I know I am a sinner. Please forgive me. I want live for you from now on."
My mom hugged me and said, "Now you are a Christian. God always hears the prayer of one asking to become part of His family. God will never leave you. He will help you with everything you do in life. And, now you will go to Heaven when you die and live with Him forever."
I felt so much joy at that moment. It wasn't until just a few years ago that I truly understood why I had prayed so many times and never felt like I was actually saved. I was reading in the book of Romans chapter 10 verses 9 and 10, "For if you confess with your mouth that Jesus is Lord and believe in your heart that God raised him from the dead, you will be saved. For it is by believing in your heart that you are made right with God, and it is by confessing with your mouth that you are saved."
I think what I needed was to share with someone what had happened in my heart. I needed to have an outward declaration of what had taken place inside me.