---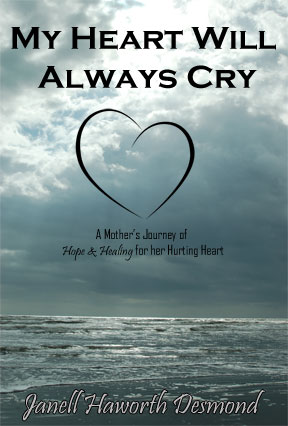 In the early morning hours of January 14, 2000, Janell Haworth Desmond slept soundly. On several occasions in the past she had been awakened from sleep with an urgency to pray for her children. This didn't happen that Friday morning. Instead she was awakened at 6 a.m., by a phone call that would change her life forever.
My Heart Will Always Cry is the true account of Janell's life as she weaves together a fascinating journey from her exciting entrance into the world, to comical and mischievous childhood incidents and her experience as an unwed mother. She shares the joys and drama of raising children, coping with life changes and the importance of faith. Janell walks through the darkest season of her life in an emotionally raw, heartfelt and honest description of losing a child and dealing with grief, guilt and heartache. Through her journey, her faith in God is evident as she shares the hope of Heaven, the assurance of salvation and the grace and peace that can only come from a relationship with Jesus Christ. 

My Heart Will Always Cry is a humorous, poignant and gripping story of the consequences of life choices, overcoming great tragedy, finding peace in the midst of sorrow and hope in the biggest storms of life.
My Heart Will Always Cry is now avaliable for purchase and e-book download at these online retailers: Amazon.com

Barnes & Noble
Westbow Press
You may also order "My Heart Will Always Cry" through your local book seller:

"My Heart Will Always Cry: A Mother's Journey of Hope and Healing for Her Hurting Heart"
By Janell Haworth Desmond
Published April 2011
ISBN: 9781449716042